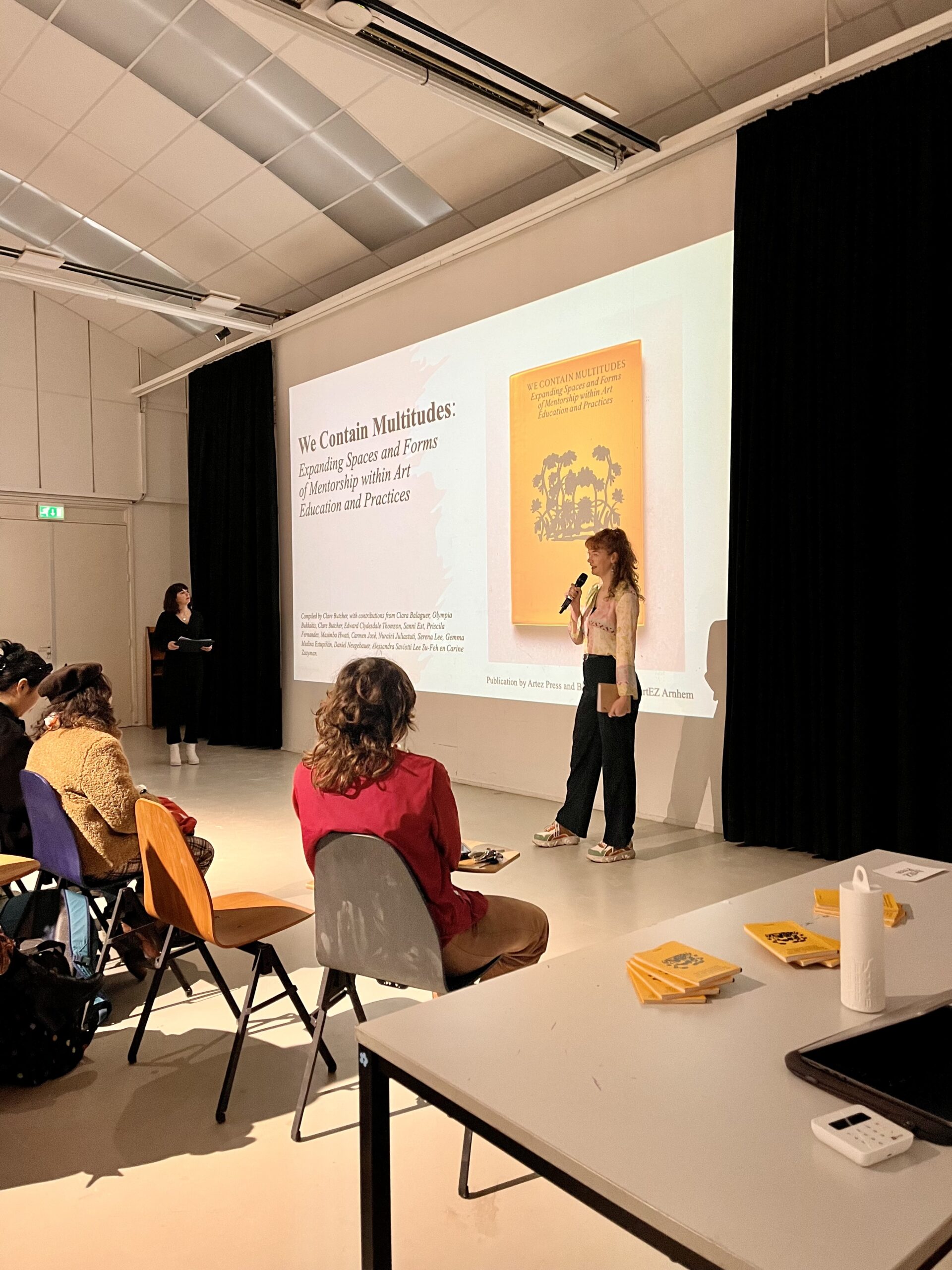 26 October 2023
Book Presentation 'We Contain Multitudes'
Afgelopen maandag vond de boekpresentatie van We Contain Multitudes plaats bij BEAR Fine Art, ArtEZ University of the Arts in Arnhem! ArtEZ Press is ontzettend blij met deze prachtige nieuwe publicatie in samenwerking met BEAR Fine Art. Met bijdragen van Clara Balaguer, Olympia Bukkakis, Clare Butcher, Edward Clydesdale Thomson, Sanni Est, Priscila Fernandes, Masimba Hwati, Carmen José, Nuraini Juliastuti, Serena Lee, Gemma Medina Estupiñán, Daniel Neugebauer, Alessandra Saviotti, Lee Su-Feh en Carine Zaayman.
We Contain Multitudes: Expanding Spaces and Forms of Mentorship within Art Education and Practices, samengesteld door Clare Butcher is een inspirerend boek waarin vragen aanbod komen als: hoe kunnen we actief worden binnen ons eigen leer- en afleerproces? Wat gebeurt er als we openstaan voor de wijsheid van het lichaam? Of voor de kennis die voortkomt uit gesprekken rond de eettafel? Hoe kunnen we tijd maken om echt te luisteren en niet te begrijpen?
Deze publicatie is een uitnodiging om open en kritisch om te gaan met tal van artistieke leermethoden zoals maken, luisteren, praten, onderzoeken, vragen stellen en samenwerken. De bijdragen tussen de pagina's laten andere wegen, perspectieven en praktijken zien, die vaak dichterbij liggen dan we denken.
Bestel het boek via onze website!